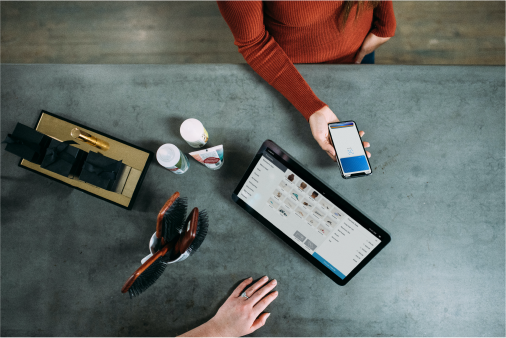 Offer a seamless experience
You can now offer your clients an opportunity to serve customers and receive payment on the shop floor. No more long queues at the counter but instead happy customers are getting advice and paying on the spot. It does not get any easier.

Due to the complexity of managing physical payment terminals, many financial companies have focused solely on providing payment solutions for e-commerce transactions. With our SoftPOS solution you can now offer full omnichannel solutions with no logistics and no hardware.

Even better, Softpay enables merchant customers to have the POS / ECR solution and the payment terminal on the same Android device and integrate seamlessly using app-switch.
Easy onboarding to SoftPay
On the same Android device, you can have both the POS/ECR system and the Softpay.io payment terminal. In many cases, you can download the Softpay.io solution to existing Android devices such as phones or devices used to scan goods when refilling shelves. Then you are ready to receive payments.

You can use your existing acquirer, and POS/ECR vendor and all you need is the Softpay.io solution to transform the current Android device into a full contactless payment terminal with PIN.
Take payments anywhere
Turn your Android device into a payment terminal today.