SOLUTION
Join the softPOS revolution
Imagine a future where any transaction is simple, safe and always wireless. Hey, hang on a minute. Why dream about it, when we're already there?
Softpay.io is already setting the industry standard for softPOS, and we'd like you to join us for the ride.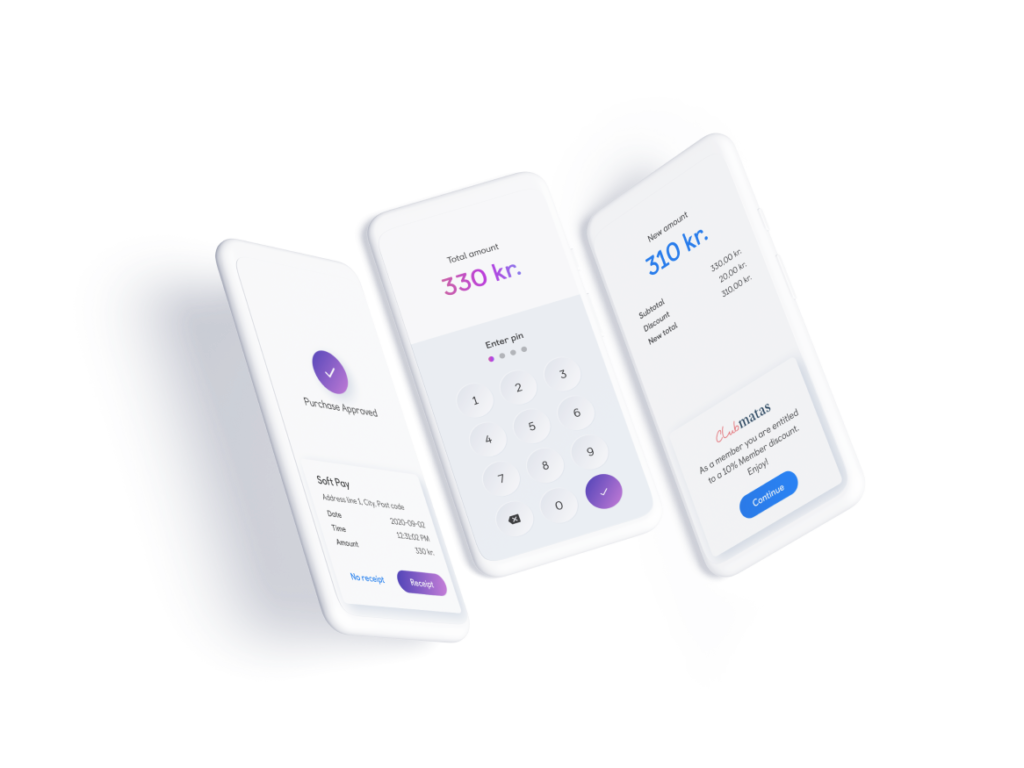 Take payments anywhere
Turn most Android 8+ devices with NFC into payment terminals. Accept Visa, Mastercard, and Dankort along with Apple Pay, Google Pay, and Samsung Pay. More options are coming.
Payment cancel & refund
Made an error? Not a problem, Softpay supports cancelling of payment or issuing a refund to your customer's card.
With or without PIN
Make your customers feel secure with a certified integrated PIN code module, allowing you to take payments of any amount not just smaller ones. A truly mobile payment terminal you can take anywhere.
Standalone or integrated
Already have loyalty programs, running discounts, or other payment systems installed? Through the App Switch API, Softpay is seamlessly integrated into your existing solutions. Or you can run it as a stand-alone SoftPOS payment app. It's really up to your needs.
Multiple stores and terminals
From single store and one terminal to multi-chain stores with different brands. Softpay supports a broad range of out-of-the-box configurations at different levels. You can experience true mobile terminals, by taking your phone to another store and run there with a single click.
Security
Consumer's card and PIN data is handled separately, it is never stored on the device. The back-end is designed according to PCI DSS standards and the solution is certified by an independent laboratory. Additionally, Softpay runs attestation checks to ensure the integrity and security of the device and it's usage.
…and more features
Card scheme selection for co-badged cards
Payment receipt via email
Different currencies and languages
End of day reporting 
Exstensive API and Documentation
Cloud based
LET'S GET SPECIFIC
What's your industry?