DSB has commenced the roll-out of the SoftPOS solution, Softpay, which replaces several different hardware devices. This will enable train conductors with an android phone at hand to accept payment of tickets, kiosk sales or issue control fees onboard trains.
As part of further streamlining their payment processes, DSB has now started the roll-out of a new payment solution enabling their conductors to handle payment on board trains when accepting payments for tickets, kiosk sales or issuing control fees. The SoftPOS solution transforms a mobile phone into a PIN-enabled contactless (NFC) payment terminal. Furthermore, via an app-switch functionality, the train conductors of DSB will be able to manage payment seamlessly via their regular app solution.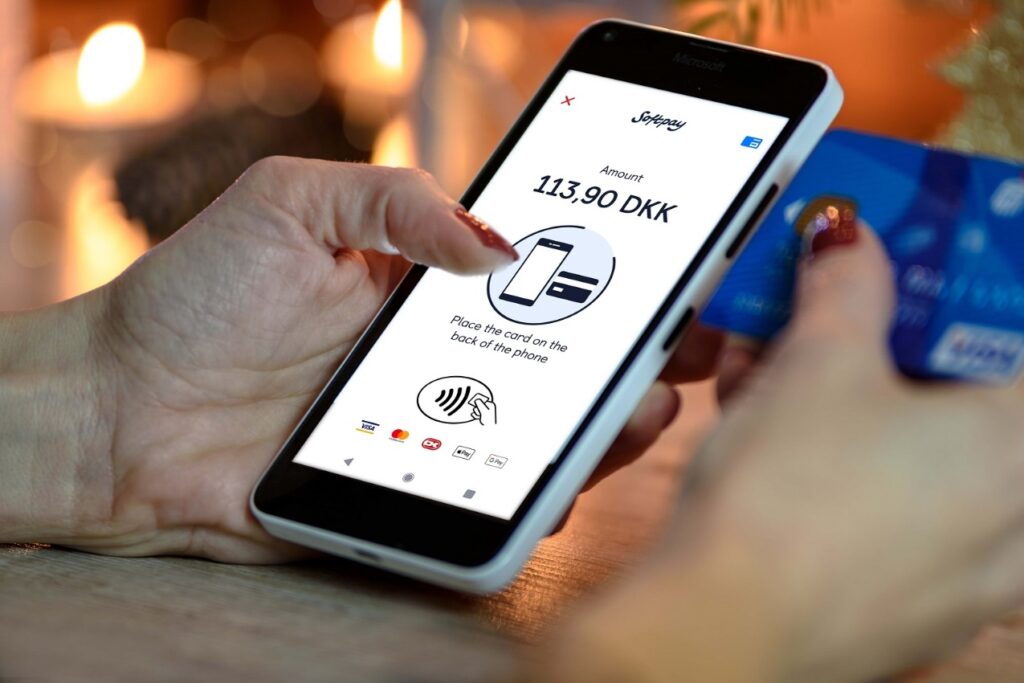 From five to one
During the past three years, DSB has retired five different hardware devices (PDA, Payment unit, BLE reader, Printer, Payment dongle) that will now all be replaced with an android smartphone enabling the Softpay functionality. DSB will distribute almost 1000 smartphones to help ensure a more seamless payment process on board trains.

"We want to make it easier and more convenient both for our passengers and our conductors across the country to manage payments on board our trains. This solution from Softpay will strengthen the functionality of our ticketing app and help make the process more seamless for all", says regional manager of the train crew in DSB, Leif Fabrin.

DSB expects that all that all conductors will be equipped with the new payment solution within a few weeks which, according to Softpay, is one of the strengths behind the new solution:

"By choosing Softpay as their future mobile payment solution, DSB will benefit from having a mobile point of sale enabling all their ticketing functionality via a common smartphone. As they can use their current infrastructure, this can be done with a minimal cost and can be rolled out very quickly," comments Craig Jacoby, CEO of SoftPay
Nordic merchants are gradually adopting SoftPOS
Following the launch in Denmark in the Spring of this year with Salling Group, Nets now offers Softpay to merchants across the Nordics managing the payment acquiring. The Android-based solution enables the secure and straightforward processing of cashless payments.

"Softpay awards businesses enhanced flexibility around the point of sale. They can accept payments in new environments like in the case of DSB, but it can also benefit more traditional merchants who will be able to conclude the payment on the sales floor rather than having to find a cash register. With Softpay it is also easy to do pop-up sales in the street or at specific events," says Jeppe Juul- Andersen, LAKA responsible for Merchant Services, Nets Group.

The hardware-independent payment solution that can be easily deployed using the existing infrastructure also benefitted 7-Eleven, when a Cyber-attack impacted them in August. Together with Softpay and Nets, the retail chain normalised their payment acceptance within 24 hours by implementing the Softpay solution across all their 176 stories.
About Softpay: SoftPay has 30 employees across Denmark and Europe. The Tap To Phone solution is approved by Visa, MasterCard and Dankort and has been live since November 2021; and already counts large customers such as Salling Group, Matas and DSB. Read more at www.softpay.io

About Nets Group: Nets mediates payments with the awareness that simplicity and security form the foundation when payment solutions must contribute to creating growth and momentum and make everyday life a little easier for banks, companies and consumers across Europe. Nets is part of the Nexi Group – a leading European company in the payment industry. Read more at www.nexigroup.com
This story around the web
Nyheder 24: Introducerer ny mobilbetalingsløsning
Finanswatch: Ny mobilbetaling ruller ombord på DSB's tog
Finextra: Danish national rail operator adopts SoftPOS tech from SoftPay and Nets
Mobility Watch: Ny mobilbetaling ruller ombord på DSB's tog
Dagens DK: God nyhed fra DSB: Introducerer nyt tiltag
Ritzau: DSB introducerer ny mobilbetalingsløsning
ITWatch: Nets og Softpay udruller løsning hos DSB
BT: DSB klar med stor ændring: Nu bliver det nemmere at betale i toget
Slagelse News: DSB introducerer ny mobil betalingsløsning
NFCW: Danish rail operator rolls out contactless fare payments on standard Android NFC phones